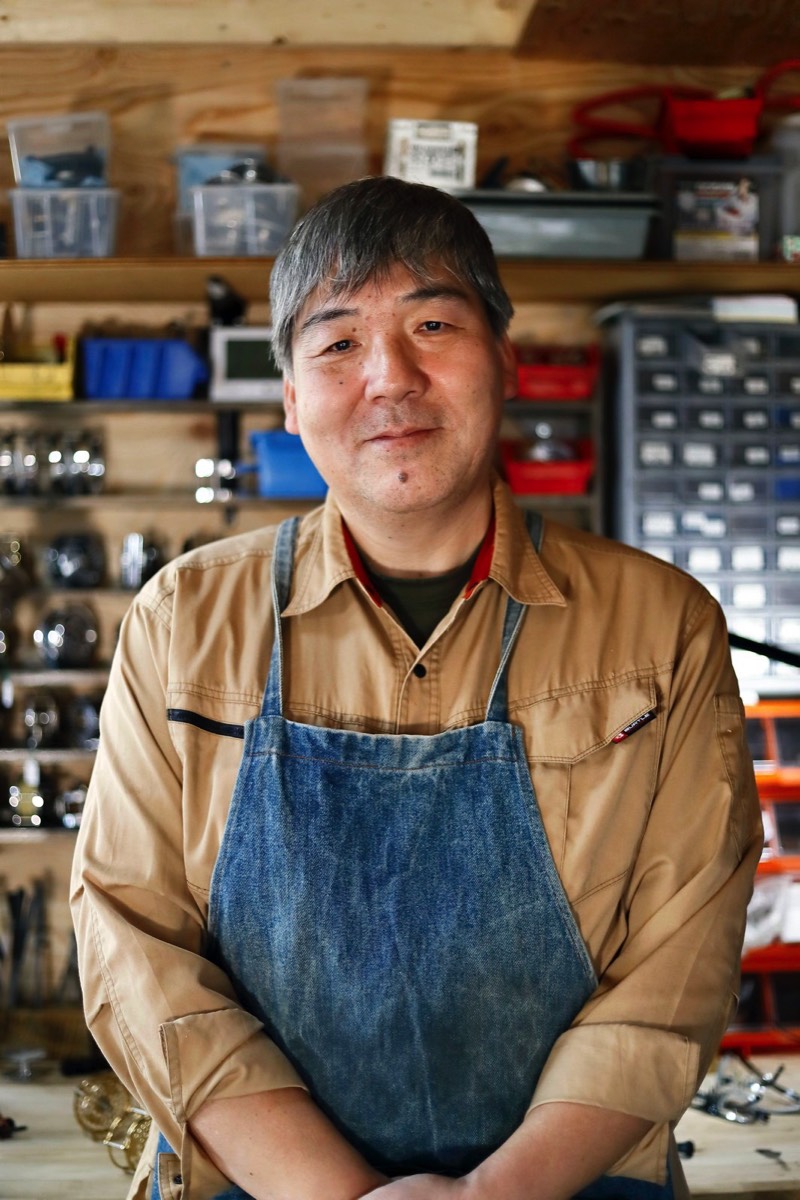 Itsuro Kobayashi - Koba Reels
Itsuro Kobayashi makes reels just as the old masters in UK and USA did, using the manual lathe. His workshop garage, tucked in right next to his home in the old post town of Takayama along the ancient highway linking the Pacific and Sea of Japan, has all the manual machinery needed to make clicker reels for light-line trout fishing.

He teaches agricultural technology at a vocational school, but because of the popularity of his small-batch reels he spends quite a few of his weekends in front of the work bench in the garage. He used to ride dirt bikes fast and slow as a hobby, and make hand-planed cane rods for some time, but his free time now is almost exclusively spent on lathe work.

His admits he uses established design cues from makers in past, but he tries to inject a bit of modern twist in ether shape or material. When a reelmaker is asked of the classic makers they respect most, a lot of them will answer EvH, but he says JvH. For Itsuro, Jilius vom Hofe represents vision, talent and freedom.

He is very lucky that Japan is one of the two countries where hard rubber is still easily available, and quite a few of his reels utilize it, either black, brown or marblized schemes. His other materials include aluminum, brass and gunmetal. His reels are strictly made to order, and some of them have choice of width. Since he has a small computerized mill, he can make custom engraving at additional cost.

His most popular model includes 401 (a sturdy all-metal raised-pillar single-handle model), and 442 (6-pillar reel with polished hard rubber plates and counter-balanced handle as standard). The basic, aluminum model of 401 will set you back 35,200 yen, and 442, the most expensive model, starts at 40,700 yen. Please refer to his web pages for the current models, and think about the customization options below. Koba-san as we call him is strictly a garage, semi-custom reel maker and we can help you realize the rare, dream reels for your light-line angling.

35,200 yen to 40,700 yen (and up)
Reel Customisation Options and Prices
Option
Detail and Price
Frame Alteration

Non-standard material: 3,000 yen and upwards

Surface finish

Blueing: 2,000 yen and upwards
Blasted: free of charge

Handle alteration

Counter-balanced: 2,000 yen and upwards
Buffalo horn material: 2,000 yen and upwards

Foot alteration

Brass foot: 1,000 yen
Ribbed foot: 500 yen

Perforation

2,000 yen and upwards

Width alteration

Free of Charge