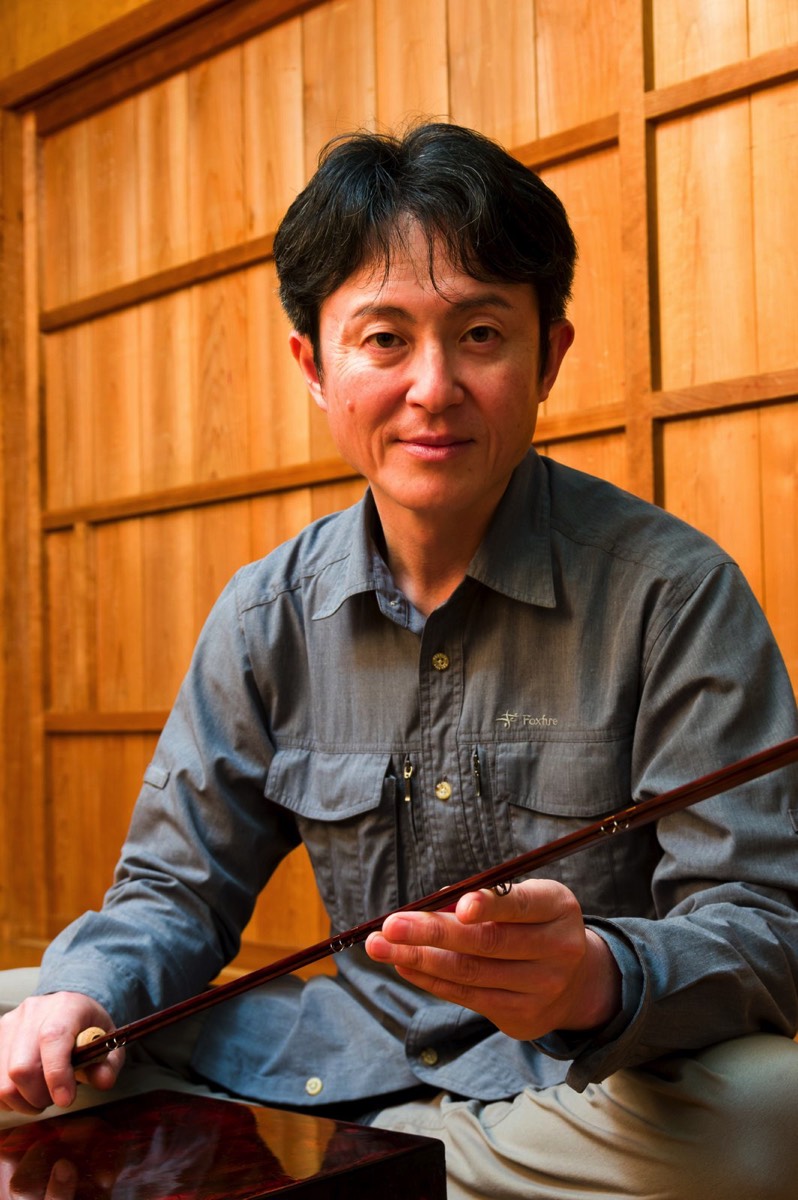 Naoto Shibuya - Kawatsura Rods
Naoto Shibuya was born and lives in the community of Kawatsura, which translates "the town with a river flowing through." For generations his family specialized in lacquering wooden products such as bowls, plates, tables and altars. After he graduated high school he apprenticed under his father and finally approved by the Japanese Government as the Traditional Meister. Naoto, now approaching his middle 40's, is in his prime as the craftsman.

He splits his time between helping his father carry on the family business and his own enthusiasm of creating tonkin bamboo fly rods. His cane rods are unique development, starting with the inspiration by the masters such as Paul Young, but modified with his own style of dry fly fishing utilizing long tippet for natural drift.

His "Kawatsura Rods" are all solid, with brown "urushi" sap lacquer hand-applied several times. He believed urushi lacquer is possibly the best rod varnish in the world, proven by history. Many museum pieces that date back 1,000 years or more have Japanese lacquer coating that still shines.

He is a light line dry fly specialist and his rods are either #3 or #4. They are best enjoyed with fish from 10" - 15" but his most powerful 7'11" #4 rods is cut out for large browns and rainbows in spring creeks. His original landing nets have the gorgeous urushi lacquer finish and low-impact soft mesh bags. Very limited-run (10 units a year or so) Kawatsura reel is of a Peerless style with hand-applied urushi coating over ebonite plates and handle.
Naoto Shibuya's rods consist of a single series, all geared up for dead-drift dry fly fishing using a long tippet. His personal staple in Japan is 7'7" #3 S model, which is a slightly slower version of the universal 7'7" #3. For trout fishing the US Rockies where 20" rainbows are realistic and wind is a big factor, he scales up to 7'8" #4.
An extra tip is supplied as standard, but single-tip version can be created. His cane rods are all 2-piece, but on custom-order basis he can turn them into four piece travel rods with 30% add-on. As of February 2020, the wait for Kawatsura rods is 2 years or slightly longer.
2-piece rod, with extra tip: 258,500 yen
2-piece rod, with single tip: 181,500 yen
| | | | | |
| --- | --- | --- | --- | --- |
| Model | Length | Sections | Line # | Action |
| 723 | 7'2" | 2 | #3 | Med-slow |
| 773 | 7'7" | 2 | #3 | Medium |
| 773-S | 7'7" | 2 | #3 | Med-slow |
| 793-S | 7'9" | 2 | #3 | Med-slow |
| 774-S | 7'7" | 2 | #4 | Med-slow |
| 784 | 7'8" | 2 | #4 | Medium |
| 7114 | 7'11" | 2 | #4 | Medium |